When it comes to fashion and parties, the two often go hand in hand. After all, what's more fun than dressing up in your fanciest clothes and enjoying a night out? It can make any event all the more special. But if you're not sure how to combine fashion and parties in style, don't worry — this article has you covered.
Whether you're headed to a formal event or just enjoying drinks with friends, here are some tips for combining fashion and parties in style.
Wear retro-inspired clothing.
One trend that's always popular for parties is retro-inspired clothing. Think 1950s-style dresses or sequined 1920s flapper dresses. This type of clothing is fun, festive, and sure to turn heads when you walk into a party.
To pull off this look, start by picking out a retro-inspired outfit that you feel confident in. If you're not sure where to find vintage-inspired clothing, try shopping at stores like ModCloth or Free People. Having era-appropriate props, like a vintage handbag or pair of cat-eye glasses, can also help you nail the retro look.
Dress up for a formal event.
Nothing can make us feel more special than getting all dressed up for a party, and that's especially true when the event is formal. If you're attending a wedding, gala, or any other black-tie affair, take the opportunity to pull out all the stops with your outfit. Even if it's a formal event, that shouldn't stop you from having fun with your look.
However, when thinking of a get-up for a formal event, always err on the side of caution. It's better to be overdressed than underdressed, as you don't want to risk looking out of place. Play it safe by sticking to a classic silhouette in a dark color.
Add some edge for a night out.
For a more laid-back party like drinks with friends or a fun night out on the town, you can afford to be a little more experimental with your outfit. Since it's not a formal event, you don't have to worry about sticking to traditional rules of fashion.
Instead, use this opportunity to add some edge to your look. Go for a bolder silhouette or try out a new trend. And don't be afraid to experiment with your accessories, too. Statement earrings or a fun clutch can really take your outfit up a notch.
Match the food with the theme of the party.
If you're throwing someone a party, whether it's a birthday, bachelorette, or just a get-together, it's always fun to match the food with the theme of the party. This is a great way to get everyone in the mood and add some extra personality to the event.
A fun birthday picnic will do well with a cookie basket, and people can wear flower crowns to really get into the spirit. This will make for some great photos too! You can even bring along some props, like a picnic blanket or other picnic-themed items, to really get into the theme. The birthday celebrant will get to have a great time, and everyone will be able to enjoy the party.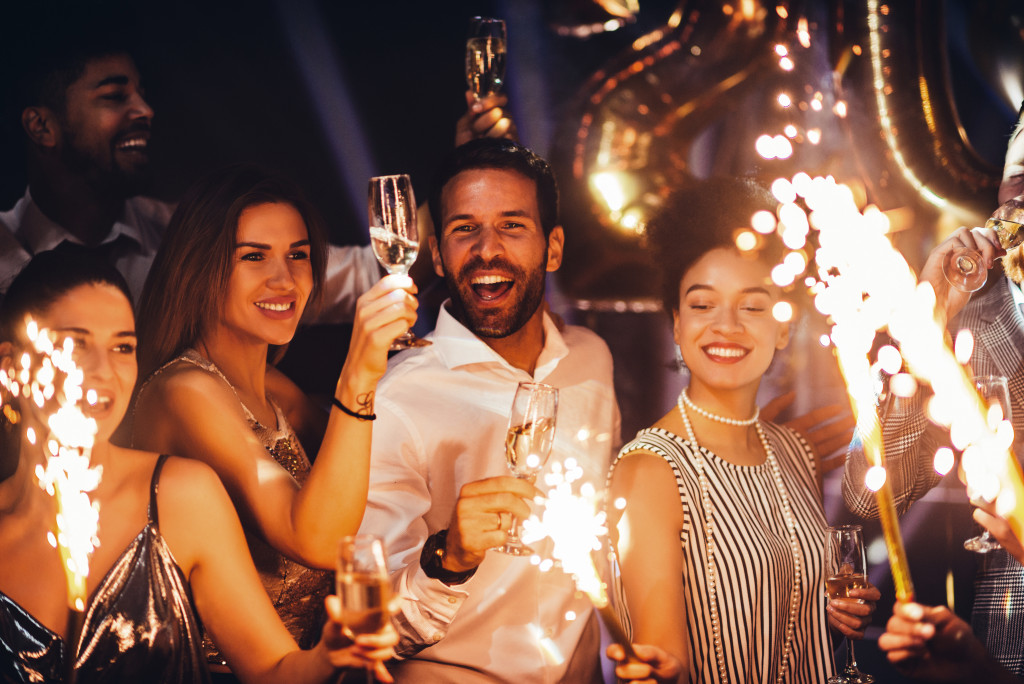 Throw an avant-garde fashion party.
Nothing beats a good old-fashioned fashion party and if you want to really stand out, make it avant-garde. This is the perfect opportunity to really let your fashion sense shine. Put together an outfit that is unique and eye-catching, and don't be afraid to push the boundaries.
For an avant-garde fashion party, you can really go all out with your look. Think outrageous colors, bold patterns, and interesting silhouettes. Look through the latest fashion magazines for inspiration, or even better – hit up your local thrift store for some one-of-a-kind finds. This makes for a unique and memorable party that your guests will be talking about for weeks to come.
Wear your most comfortable at a pajama party.
As adults, we don't often get to have a pajama party, but that doesn't mean we can't enjoy one every now and then. If you're looking for a more low-key party, invite some friends over for a pajama party. This is the perfect opportunity to relax and unwind in your coziest PJs.
Of course, you don't have to wear actual pajamas for this party. You can also rock a comfortable pair of yoga pants or leggings. The important thing is that you're comfortable and able to relax. Once you're all settled in, you can enjoy some snacks and drinks while catching up with friends.
Bottom Line
No matter what kind of party you're throwing or attending, it's always important to dress the part. By following these tips, you can make sure that everyone is looking their best and having a great time. So put on your favorite outfit and get ready to celebrate in style!