Winter is here, which means it's time to break out the sweaters, coats, and scarves! But just because the weather is getting colder doesn't mean you have to sacrifice style for warmth. Many people think you can't be both practical and stylish for winter, but we're here to prove them wrong. Here are some fashion tips to help you stay warm and fabulous all winter long.
1. Layer, layer, layer!
The key to staying warm in cold weather is layering your clothing. Start with a base layer of thermals or a turtleneck, add a sweater or cardigan, and top it off with a coat or jacket. Don't forget a scarf, hat, and gloves to complete the look! These layers will not only keep you warm, but they'll also add texture and interest to your outfit.
But try to consider the bulkiness of your layers when putting together an outfit. Too many bulky layers can make you look frumpy, so balance them out with fitted or slim-fitting pieces. For example, if you're wearing a chunky sweater, pair it with skinny jeans or leggings. This will help you avoid looking like a marshmallow!
2. Choose the right fabrics
When it comes to fabrics, not all are created equal. Some are better at insulating heat than others, so it's essential to choose wisely if you want to stay warm. Wool, cashmere, and fleece are all great options for winter, as they're thick and will keep you toasty. Down is another good choice, as it's lightweight but still very warm.
If you're looking for a more budget-friendly option, consider layering thinner fabrics like cotton or silk. These won't keep you as warm on their own, but they make a great base or middle layers. Just make sure to top them off with something thicker and more substantial! You can also look for clothing with unique "thermal" fabrics that trap heat.
3. Accessorize!
Hats, scarves, and gloves not only keep you warm but also add some flare to your winter outfit. They're the perfect way to add a pop of color or pattern to an otherwise simple outfit. Many people think you have to sacrifice fashion for function in the winter, but that doesn't have to be the case.
And don't forget about jewelry! Even when wearing a scarf and hat, you can still accessorize with earrings, necklaces, and bracelets. You can buy stylish earrings that double as a winter accessory and add a touch of glamour to your outfit. Necklaces may disappear under a scarf, but they can add a touch of elegance to your look. Just make sure not to layer too many pieces of jewelry, as it can start to look cluttered like a Christmas tree.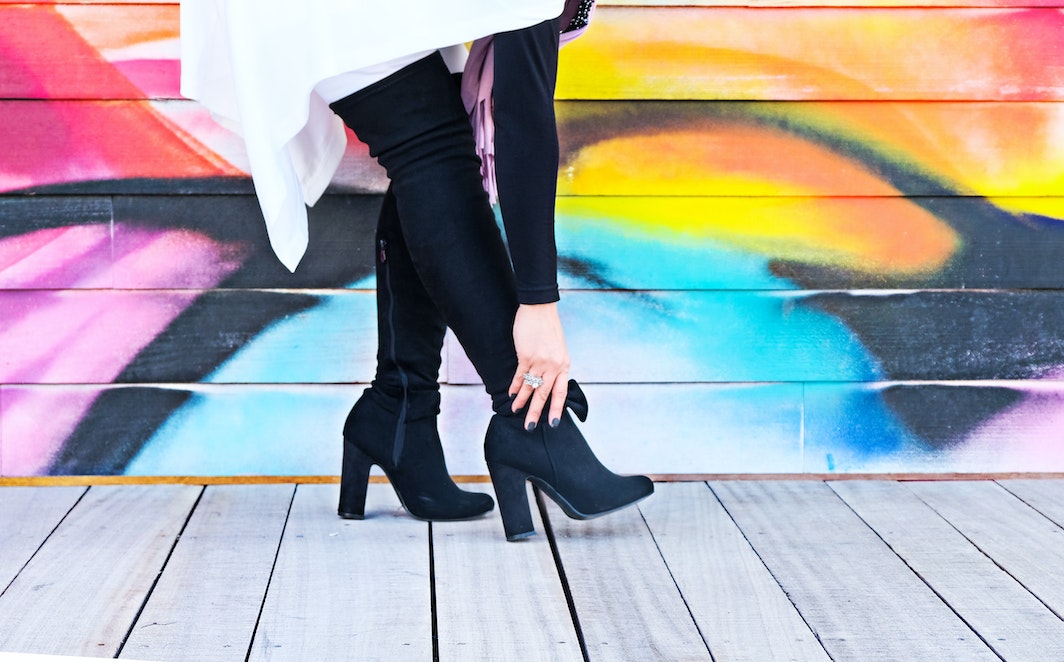 4. Wear the right shoes
When it comes to shoes, you'll want to choose something that's both practical and stylish. Boots are a great option, as they can be both cute and functional. Look for a comfortable and warm pair, such as those made of leather or suede. If you are doing a lot of walking in the snow, choose a pair that's waterproof or has good traction to avoid slipping.
You can still choose pieces with high heels if you want, but make sure they're not too tall. Tall heels will sink into the snow, making it difficult to walk. And if you're going to be doing a lot of walking, it's best to avoid them altogether. Choose a lower heel with a stable base to make walking easier.
5. Embrace colors and patterns
Many people think you have to stick to dark colors in the winter, but that doesn't have to be the case. There are plenty of ways to incorporate color and pattern into your winter wardrobe. Look for colorful scarves, hats, and gloves to brighten up your outfit. You can also add a touch of pattern with a plaid shirt or a printed dress.
And don't be afraid to experiment with different textures. Textured fabrics such as velvet and corduroy can add interest to an otherwise simple outfit. You can also look for clothing with embellishments such as sequins or beads. Some people think these are only for special occasions, but you can definitely dress them down for everyday wear.
With these practical fashion tips, you can stay warm and fabulous all winter long! Always dress in layers, choose the right fabrics, and accessorize your outfit. And don't forget about shoes! Choose a pair that's both comfortable and stylish. With these tips, you'll be sure to stay toasty all season.