Choose two or three complimentary colors for your wedding palette that best match the season or location of your venue.
Accessorize your outfit to make a statement, such as a statement jewelry and hair accessories.
Find a venue that matches your overall style, and consider the theme when deciding.
Create an unforgettable backdrop for your big day by considering essential elements.
Your wedding day should be a day of joy and celebration, but it should also be a day you look back on with pride. You want to ensure your special day is stylish, but how can you do this? With the help of some expert advice on styling your wedding from head to toe, you can ensure that your big day is one for the books. It's time to embark on crafting the perfect stylish wedding.
Choosing a Color Scheme
Creating a cohesive color scheme for your wedding will help ensure that all aspects of the event come together in harmony. Choosing two or three complimentary colors that match the season or location of your venue are essential considerations when creating a color palette for your wedding day.
If you already have a favorite color or style, use it to inspire your color scheme. For example, if you love pink, it could serve as one of the primary colors in your scheme, while green and yellow could provide contrast to create an eye-catching palette. Whatever colors you choose, what matters most is that you feel connected and inspired by them.
Accessorizing Your Outfit
Once you have chosen a dress and picked out some accessories, it's time to start accessorizing. Finding pieces complimenting each other can add an extra flair to any outfit and make you look amazing on your big day. Some of these are: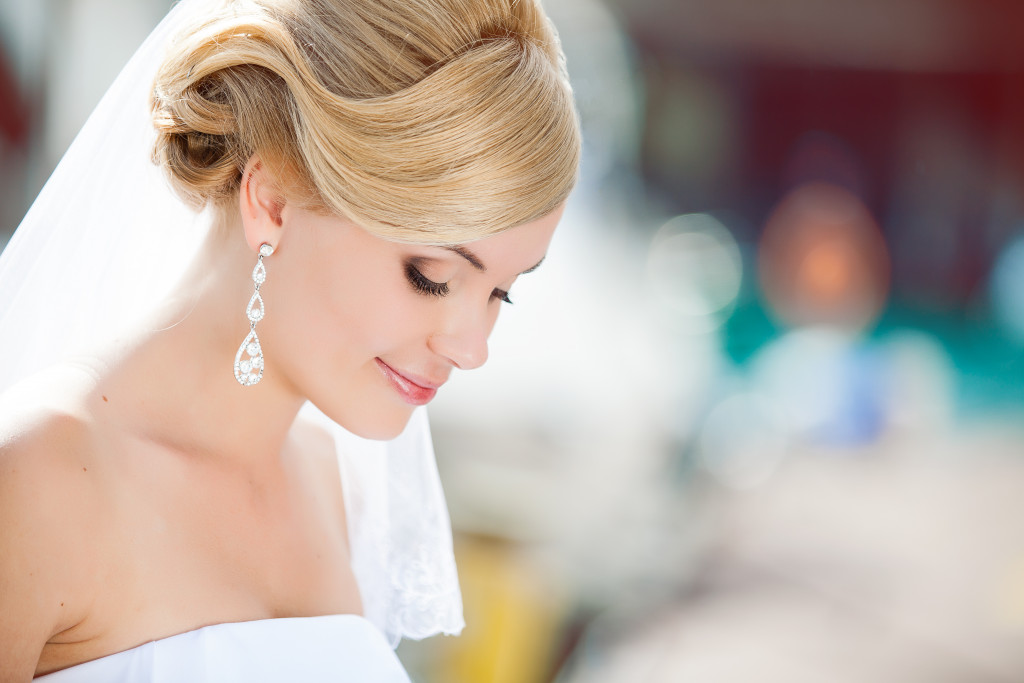 Jewelry
Think about adding statement jewelry, such as necklaces, earrings, colorful shoes, and bags. These items can help to make your look stand out, and you will be sure to get a few compliments.
Hair Accessories
Adding subtle touches like hats or fascinators is also a great idea for making a statement without going overboard. These are also perfect for bringing out your inner diva and rocking a chic and stylish look.
Veils or Hairpieces
Of course, if you want a more traditional look, opting for veils or hairpieces is essential. These are great at helping to complete your bridal look and are sure to make the day unforgettable. With an array of options, you are sure to find something that fits your style.
Styling Your Venue
Choosing the wedding venue is one of the essential steps in creating a stylish event. A great way to do this is by considering what theme or atmosphere you'd like to create. Whether it be modern and chic or vintage-inspired, selecting a venue that matches your overall style will help tie your day together. You can choose between an array of styles trending today, which includes the following:
Rustic
A cozy, rustic venue is perfect for those looking for a more laid-back, countryside-style wedding. Many classic barn wedding venues offer an array of decor to match the style. Think exposed brick walls, fireplaces, and plenty of greenery and candlelight. These settings are great for creating a romantic atmosphere.
Glamorous
If you want a more luxurious atmosphere, consider a glamorous venue. You can find these in the form of hotels, mansions, and more. Charming venues come in many shapes and offer plenty of decorative options to choose from that can create an undeniably opulent atmosphere.
Modern
Modern venues are for those looking for an elegant and contemporary look. With their clean lines and minimalistic approach, these settings offer plenty of opportunities to infuse your style into the day. It's perfect for couples seeking a chic wedding.
Enchanted
For those looking for a more whimsical feel, enchanted venues are the way to go. These are often located in gardens or other outdoor settings. With plenty of flowers and foliage, these venues are perfect for creating an atmosphere that feels like a fairy tale.
Classic
You can never go wrong with a traditional setting for your wedding. With classic venues, you can enjoy timeless elegance with a touch of sophistication and elegance. These spaces often feature vintage furniture, romantic lighting, and other charming details that make the whole experience feel timeless.
An expertly styled wedding day should be about more than just the dress. By considering the above areas and elements, you can ensure that your wedding day looks and feels like it was pulled straight out of a magazine. With the right styling, you can create an unforgettable backdrop for your special day.