As the jewelry world grows and changes, new trends and styles are always emerging. In 2023, a few particular trends will be influencing the way we view jewelry. This blog post will explore 10 of the latest trends in jewelry so that you can stay ahead of the curve!
1. Oversized Statement Pieces
One trend that is sure to be big in 2023 is oversized statement pieces. This includes everything from chunky rings and bracelets to bold necklaces and earrings. If you want to make a statement with your jewelry, this is the trend!
Also, don't be afraid to mix and match different metals and materials. Mixing gold with silver, or even incorporating gemstones into your pieces, can create a truly unique and eye-catching look.
2. Layering Different Types of Jewelry
One trend that has been popular in the past few years and is likely to continue into 2023 is layering different types of jewelry. This can be done with necklaces, bracelets, and even rings.
Layering allows you to create a unique look that reflects your personal style. It also allows you to experiment with different combinations of metals, stones, and shapes.
3. Mixed Metals
In the past, it was generally accepted that you should stick to one type of metal when accessorizing. However, in recent years, the trend has been to mix different metals together. This can add an interesting contrast to your look.
Nowadays, it is perfectly acceptable to mix gold and silver together or even incorporate rose gold into the mix. If you want to make a statement, then try pairing different metals with each other.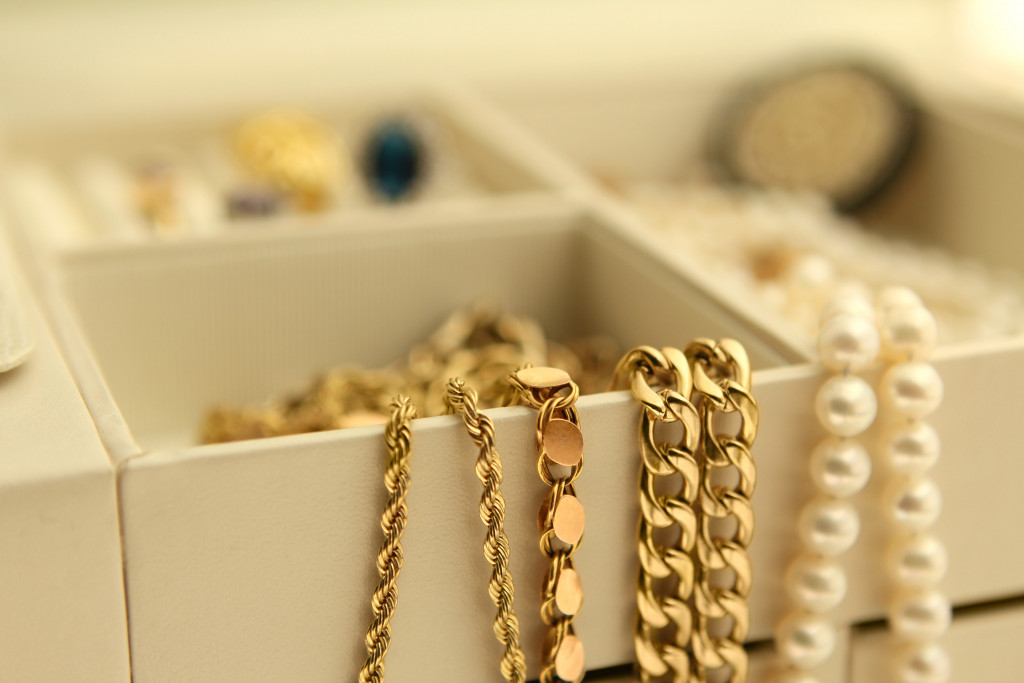 4. Dainty Jewelry
Another trend that is sure to be big in 2023 is dainty jewelry. This includes delicate pieces such as thin rings, small stud earrings, and delicate necklaces.
Dainty jewelry is the perfect way to add a touch of elegance to any outfit. It can also be layered with other pieces to create a more complex look.
5. Geometric Jewelry
Geometric jewelry has been gaining in popularity in recent years and is sure to be a big trend in 2023. This includes everything from hexagon earrings to triangle necklaces.
Geometric jewelry is a great way to add a modern touch to any outfit. This trend is perfect for those who want to make a statement with their jewelry.
6. Colorful Jewelry
We're seeing a trend towards more colorful jewelry, and it's not just limited to gemstones. Even metals are being used in new and innovative ways to create colorful jewelry. This trend is perfect for those who want to add a bit of personality to their look.
Also, rose gold is making a comeback! This beautiful metal was once thought to be outdated, but it's now being used in more modern and contemporary designs.
7. Personalized Jewelry
Personalized jewelry is a trend that is here to stay. This includes everything from engraving your initials on a piece of jewelry to having a custom piece made just for you. This trend is all about making jewelry more personal and unique to the individual wearing it.
Not only is personalized jewelry a great way to add a personal touch to your look, but it also makes for a great gift. If you're looking for a truly unique and special gift, then consider giving personalized jewelry.
8. Gold Is Making a Comeback
We are seeing more and more gold jewelry on the red carpet and during fashion week. This is a trend that can be worn by anyone, regardless of age or style.
With gold being such a popular metal, it's no surprise that oval signet rings made of gold are also becoming more popular. These rings can be personalized with a family crest or monogram, making them even more special.
9. Nature-Inspired Jewelry
We're seeing a lot of jewelry that is inspired by nature lately. This includes pieces with leaves, flowers, and even insects. This trend is perfect for those who want to add a touch of nature to their outfit.
Not only is this trend stylish, but it's also very symbolic. Wearing nature-inspired jewelry can represent your connection to the earth and the natural world.
10. Pearly Whites
The final trend on our list is pearly whites. This includes everything from pearl earrings to pearl necklaces. Pearl jewelry is classic and timeless, but it's also having a moment right now.
Not only are pearls a classic gemstone, but they are also very versatile. They can be worn with almost any outfit and can be dressed up or down.
With so many trends to choose from, there's sure to be something for everyone in 2023. Whether you're looking for something classic or something more modern, there's a trend that will suit your style. So get out there and start shopping!