Summer is a time for swimming, playing in the sun, and enjoying the outdoors. It's also a great time to update your child's summer wardrobe with some new swimwear options. Whether you're a kid or a parent, it's important to have the right fashion for the occasion.
Here are some tips on keeping your kids stylish by the pool all summer long:
Choose the right swimsuit
The pool is a great place for kids to have fun, but it's important to ensure they're wearing the right swimsuit. There are a few things you should keep in mind when choosing a swimsuit for your kid.
First, consider the material. When picking a swimsuit for your child, think about the material. Swimsuits made of nylon and polyester will be less likely to absorb water and dry quickly. This means your child will be more comfortable when swimming.
Second, think about the fit. It's essential that swimsuits are snug but not too tight, as this will help ensure they stay in place while your kid is swimming. Swimsuits should also allow your kid to move freely; if they're too tight, it will be difficult for your kid to move their arms and legs properly. To check the fit, have your kid put on the swimsuit and then have them move around in it. If the swimsuit stays in place and doesn't ride up or bind in any areas, then it's a good fit. However, if the swimsuit is too loose or too tight, it will need to be adjusted or replaced.
Finally, choose a style that your kid will be comfortable wearing. Tankinis, two-pieces, and rash guards are all popular options. With so many cute and stylish swimsuits available, you're sure to find one perfect for your kid.
Accessorize the summer look right
A great way to keep your kids looking stylish at the pool is to buy them some trendy sunglasses. Oversized sunglasses are all the rage right now, so consider getting a pair for your kid. If you're worried about the glasses falling off, you can buy a pair with a strap that goes around the head. This way, even if the glasses do fall off, they won't go anywhere.
Another great accessory to consider is by adding floaties for kids. This not only makes them more visible in the water but also keeps them safer while they're swimming. Floaties come in a variety of fun shapes and colors, so there's sure to be a pair that your little one will love. And floaties can double as a cute fashion accessory when they're not in the water. So, make sure to pick up a pair before heading to the pool this summer.
Dress kids in stylish clothes that will keep them cool
Though it may be tempting to dress your little ones in the cutest, most stylish clothes you can find, it's important to choose outfits that will keep them cool and comfortable when the temperatures start to rise. Look for lightweight fabrics like linen or cotton, and steer clear of anything too tight or constricting. Flowy dresses and shorts are always a good choice, and if you're looking for something a little more stylish, try pairing a loose tee with joggers or denim shorts. And don't forget about accessories! A cute sunhat or pair of sunglasses can help protect your child's skin and eyes from the sun's harmful rays. With a few simple tweaks to their wardrobe, you can help ensure your kids stay cool all summer.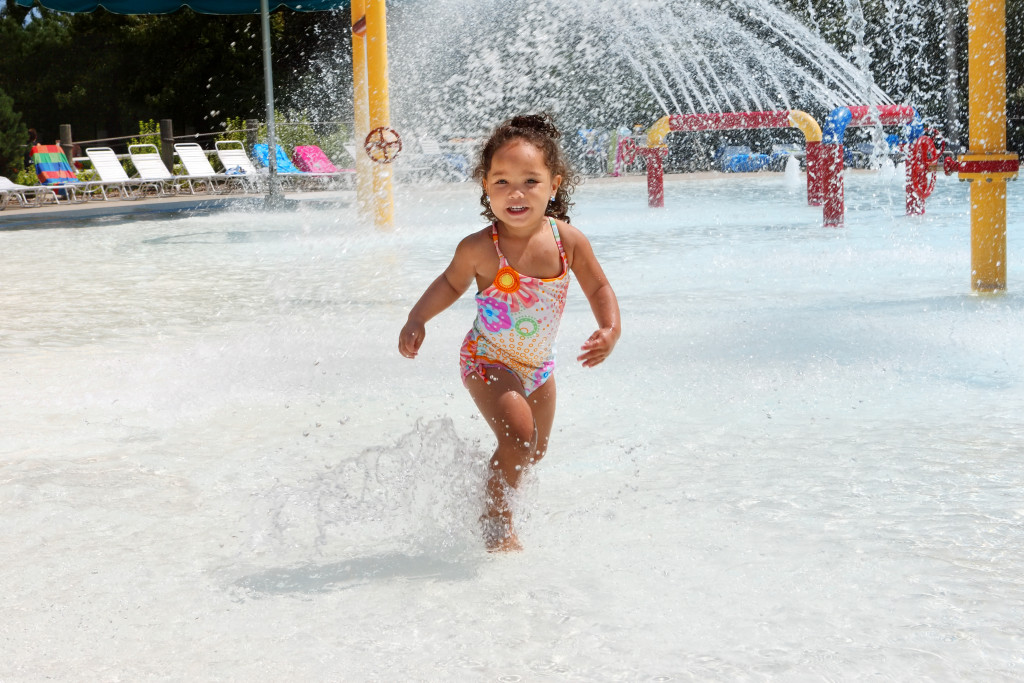 Get water shoes to protect their feet
Water shoes are essential gear for any kid who loves to play in the water. They help to protect little feet from sharp shells and rocks while also providing traction on slippery surfaces. Most water shoes are made from a quick-drying material that helps to keep feet cool and comfortable. They're also lightweight and easy to pack, making them an excellent option for beach and pool days. Whether your child is splashing in the waves or exploring a rocky shoreline, ensure they're prepared with a good pair of water shoes.
Let them have fun and be kids
There's nothing quite like playing in the water when it comes to summertime fun. Water provides a refreshing way to beat the heat, whether it's splashing around in a pool, paddling a canoe down a river, or just running through the sprinkler in the backyard. And for kids, playing in the water is one of the best parts of summer. Water activities are not only a great way to stay calm, but they're also a lot of fun. So go ahead and let your kids enjoy being kids this summer—they'll surely have a blast!
No matter what your summer plans entail, make sure you and your family are looking good while doing them. With a little planning and preparation, you can ensure that your kids will be stylish at the pool all summer long. So grab your sunscreen, put on your shades, and get ready to enjoy some fun in the sun!