Consider budget, activity preferences, and trip length to determine the best destination for an international excursion with friends.
Enjoy breathtaking views on board the Rocky Mountaineer in British Columbia, Canada, or explore the vibrant coral gardens of Australia's Great Barrier Reef.
Queenstown—New Zealand's Adventure Capital, offers bungee jumping, whitewater rafting, and more.
Costa Rica is the ultimate eco-tourism destination for nature lovers, with activities like zip lining and hot springs.
Don't miss out on the Tanzania Safaris to spot zebras, giraffes, and elephants and explore the culture of local Maasai tribes.
Planning an international excursion with your friends can be thrilling yet nerve-wracking. Trying to come up with a destination that everyone can agree on, as well as activities and attractions that appeal to everyone's tastes and interests, can be challenging. To help make the planning process easier, here is your best guide!
Planning Considerations
Everything starts in the planning stage. Before deciding on your destination, there are a few things to consider:
Budget
One of the most important factors to consider is your budget. Determining how much you and your friends are willing to spend on the trip is important. This will help narrow the list of potential destinations and ensure everyone is comfortable with their contributions. Your group budget will also help you determine the type of accommodation and transportation options available.
Activity Preferences
Another important factor to consider when planning a trip is the types of activities your group would like to participate in. Whether it's exploring historical sites, shopping, or trying traditional dishes—having an idea of the activities you would like to do will help you narrow down potential destinations. Knowing what activities appeal to your group is essential in choosing the right destination and finding attractions everyone can enjoy.
Trip Length
The length of your trip is also important in planning a successful excursion with friends. It's important to decide how long you want to stay at your destination and if you plan to take any side trips. This will help set realistic expectations for the trip and ensure enough activities are planned to keep everyone entertained.
Destination Ideas
Now that you've considered all the planning factors, it's time to decide on a destination! Here are some out-of-the-country destinations that are perfect for a group vacation:
Ride the Rocky Mountaineer in British Columbia, Canada
The Rocky Mountaineer is one of Canada's most popular tourist attractions, and it's easy to see why. This luxury rail line takes passengers through some of Canada's most stunning scenery, including dramatic mountain ranges, lush forests, cascading rivers, and glacier lakes. It's an adventure they won't soon forget! And if you're looking for a unique experience, try booking one of their special "GoldLeaf" packages which offer guests superior service and panoramic views from their glass-domed coaches.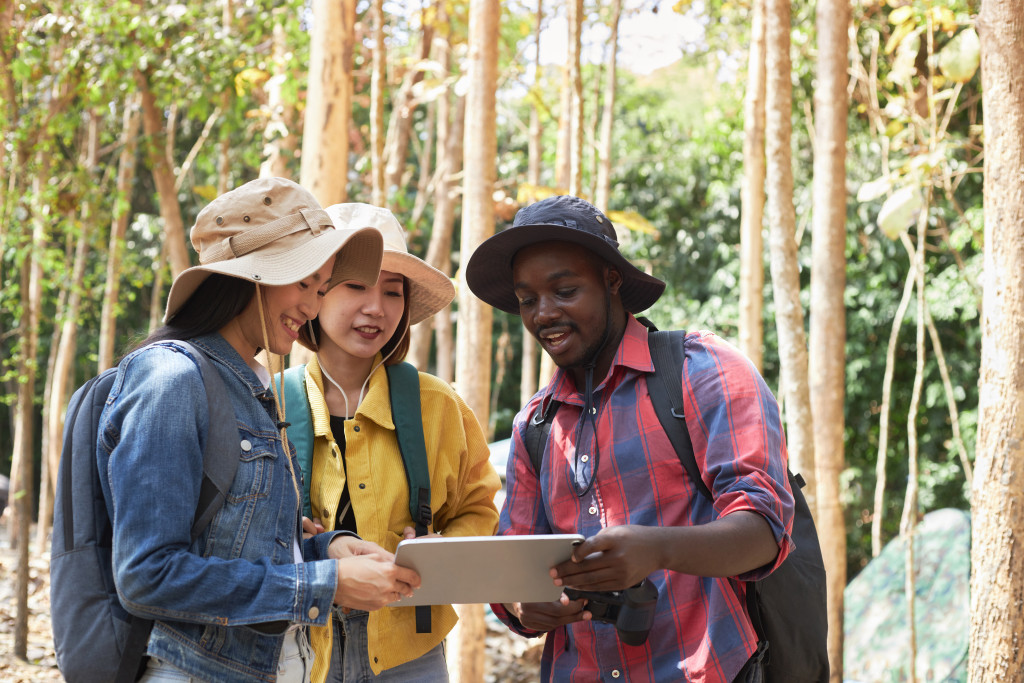 The Great Barrier Reef in Australia
Take a dive down under (literally) and explore the underwater beauty of Australia's Great Barrier Reef! Whether you're a novice diver or an experienced pro, there's something here for everyone to enjoy. See everything from vibrant coral gardens to sea turtles, dolphins, and colorful fish—all while enjoying stunning views from beneath the surface. Plus, with so many activities available (from Glass Bottom Boat tours to snorkeling trips), this will surely be an unforgettable experience for your adventurers!
Discover New Zealand's Adventure Capital
If you're searching for unique adventure experiences, look no further than Queenstown—New Zealand's Adventure Capital. From bungee jumping off spectacular cliffsides to whitewater rafting down raging rivers or even taking a leap off the iconic Skyline Gondola—there is no shortage of adrenaline-filled activities here! Plus, when you need a break from all the excitement, take some time to explore the city's stunning landscape or delicious cuisine offerings.
Jump Into Nature in Costa Rica
Costa Rica is known as one of Latin America's top eco-tourism destinations—so why not jump into nature with your closest friends? Take part in activities like whitewater rafting on thunderous rapids or zip lining across lush jungles—sure to give you an adrenaline rush like never before! If it's the peace and quiet you seek after all that excitement, head over to Arenal Volcano National Park, where you can soak up some sun at La Fortuna Waterfall or take a refreshing dip in Tabacon Hot Springs.

Tanzania's Safaris
Last, don't miss out on seeing some of Africa's most majestic wildlife. The 2023 Tanzania Safaris will take you into the depths of the Serengeti, allowing you to spot zebras, giraffes, elephants, and more. The experience isn't complete without a visit to Ngorongoro Crater—home to some of the most stunning views in Tanzania's northern safari circuit. It also offers visitors a unique perspective on the life and culture of local Maasai tribes.
Going on adventure trips with friends is a great way to deepen your bond and create lasting memories. With these destinations, there's sure to be something that appeals to everyone in your group. So start planning your next trip now and prepare for the ultimate adventure!