Whether you're shopping for someone or yourself, it's a bit challenging to choose clothes for big guys. A lot of things need to be considered before checking out that order. If you're not careful, you might end up buying something unflattering for the person. You don't want to regret what you already purchased if you're buying the clothes for yourself.
Data shows that in 2021, the plus-size men's clothing industry was valued at 848.9 million U.S. dollars. Despite this figure, stores that cater to big guys are selling limited styles of clothing. You might just end up scoring some basic plaid shirts and a pair of lonely pants.   Given your limited options of style to choose from as a big guy, how are you going to dress up stylishly? Check out some tips you might want to apply next time you shop for new clothes.
Business
Who doesn't want to look their best in a job interview for a corporate position? Who wouldn't want to impress colleagues with your style despite stressful deadlines? You might not know, but your bosses might be paying attention to your attire. You want to look all dapper even when the pressure is on to leave an impression. Dressing up for a job might not mean anything to you. But it would help if you focused on this, too. So start with choosing well-fitted tops. The first rule of choosing your top is not to wear baggy shirts. Hiding your curves by wearing baggy clothes won't do much. When it comes to blazers, wear ones that have squared shoulders. These types add structure and shape to your body.
For your pants, go for the straight-cut. Avoid wearing pants with pleats. Another thing to avoid is wearing skinny-cut pants. They're just going to make your thighs look stuffed. Choose the right pants for your office attire. Pair them with leather shoes that compliment the color of your whole outfit.   If you can't choose anything that looks flattering, alteration is always the go-to solution.
Casual
There are things to consider when choosing a shirt for your casual attire. One trick that works all the time is choosing darker colors. Most big guys do this if they're trying to reduce their perceived size. Aside from that, choose shirts that can highlight your neckline. Avoid complex patterns and prints. Your curves will just get them distorted. Instead, opt for plain shirts that fit really well.
For casual wear, you can lax the straight-cut rule. You can actually try cargo pants that narrow down to your lower legs. And, of course, jeans that give structures to your hips and legs. Another option is wearing shorts. Choose those with hems that don't fall below the knees (unless they're cargo shorts.) Lastly, your sneakers or slip-on should complement your whole get-up.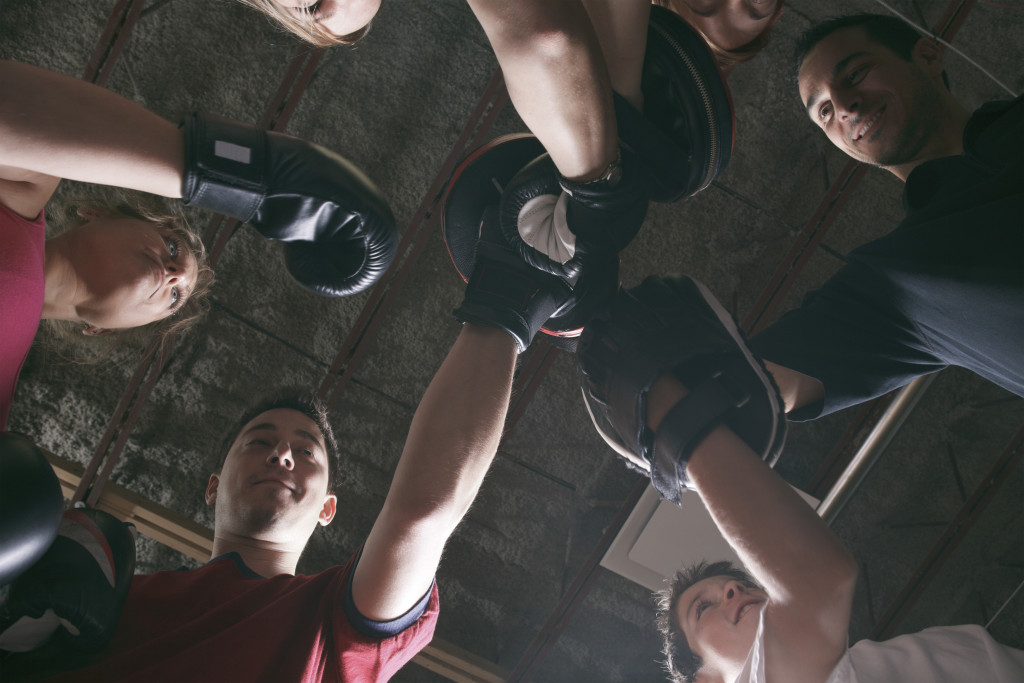 Fitness
Big guys always draw attention when they enter the gym. If you want to dress up at a fitness center, you should do it properly. This is the time to wear anything that you feel most comfortable in. Wear those baggy shirts you have in your closet. Just make sure they're lightweight in case you sweat too much. For fitness gurus, you can go for bodybuilding apparel for men. This attire is not just perfect for flexing your gains but also for seeing your progress. They can also help you move freely. These can help if you do weightlifting or any activity that requires a considerable range of motions.
Big guys can either wear sweat pants or shorts. Your sneakers should be lightweight, too, for comfort. But the most important thing to consider here is your local gym's guidelines. Some gyms have dress codes, and you should always submit to the rules.
Formal
Dressing up for formal gatherings should not be difficult if you already know how to dress up for office. Business attire isn't really that far from formal wear. However, you also have to make sure that you're not going to look like you're dressed up for work.
Not much can be said for formal wear if you already know the basics of corporate attire. The only rule you have to keep in mind is to follow the theme if there's any. Weddings, corporate gala dinners, and even funerals have each of their own. Depending on the gathering you're going to attend, you can tweak some things in your fashion. These include style execution and the addition of accessories. If it's the time to wear that shiny belt or your favorite suspenders, then wear them. You just have to dress up appropriately.
Now you know some basic tricks for dressing up, you can apply these and mix and match clothes. Big men can be fashionable, too. You should be able to express your style properly by following these tips.