We all love to attend weddings. It is nice to wear something different from your usual getup. It is also an excellent opportunity to meet old and new friends and be part of someone's special day. More importantly, it is a beautiful feeling to see the bride – in her spectacular wedding gown – making the most dramatic walk of her life toward the person whom she'll spend the rest of her life with.
Planning other people's weddings can be exciting since it involves exchanging ideas with the bride and groom. However, planning your wedding is a different story. From finding the right location and suppliers and hiring a day-of wedding coordinator, it can be challenging to achieve that perfect wedding you have always dreamed of.
Speaking of coordinators, they play an essential role in ensuring that everything goes smoothly. Wedding coordinators serve as your middleman to your suppliers and take care of last-minute emergencies. They can help lift the burden of planning, and you can sit back and relax until your wedding day.
Event coordinators vs. day-of wedding coordinators
The two might sound similar, but they play a different role on your wedding day. On one hand, an event coordinator is there from the beginning of your planning until the event day itself. They meet with suppliers and make sure that everything leading up to the wedding day goes well.
On the other hand, more and more wedding couples hire day-of wedding coordinators. As the name suggests, they will provide coordination and support only on the wedding day itself. He or she will help the couple ease their stress on their wedding day. Hiring a day-of wedding coordinator can be a lifesaver for couples who do not have enough budget to hire an event coordinator or planner.
A day-of wedding coordinator will also provide help for couples who did not hire a coordinator but realized that they need one anyway. In most cases, their job is not just for that day of the wedding. Instead, they mostly have an idea of how the wedding plans are a few months before the event itself.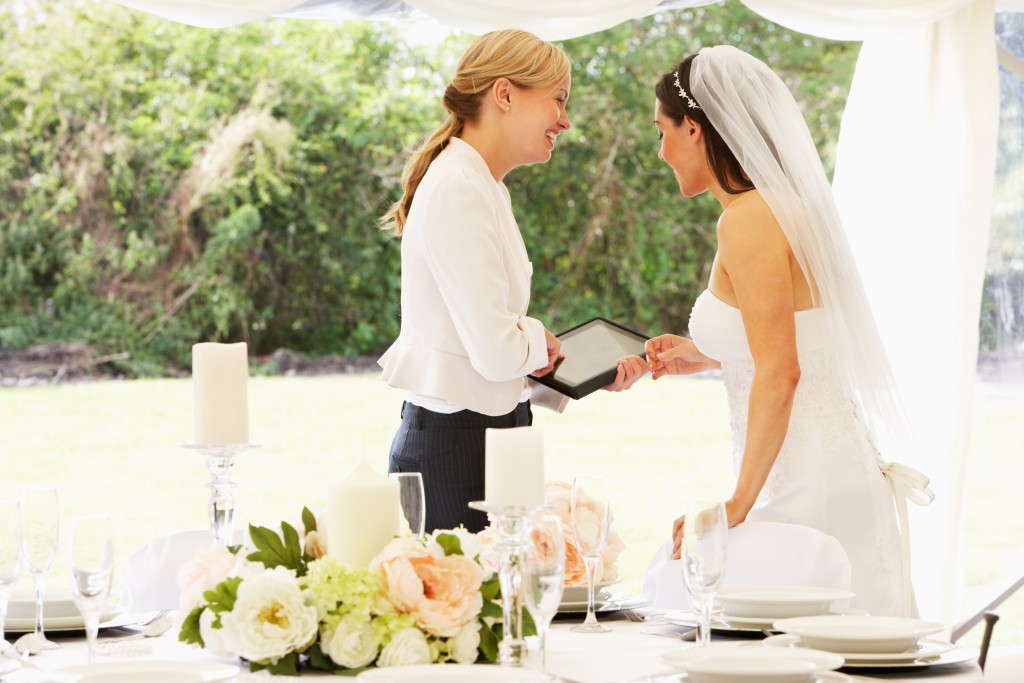 A day-of wedding coordinator's usual tasks
In general, a day-of wedding coordinator is responsible for handling unexpected situations, including the following:
Dealing with wedding crashers
Groom and bride emergencies (ex. There's a problem with the bride's wedding dress, so he or she has to call someone who can mend it immediately)
Dealing with other suppliers (ex. Come up with contingency plans in case the caterer or the band is late)
Ensuring that the wedding plan is well-implemented
Similar to an event coordinator, a day-of wedding coordinator also plays a crucial role in a couple's special day. They have to make sure that everything goes well according to plan. Some event venues already have an in-house coordinator. However, this does not mean that you have to forego hiring a day-of wedding coordinator.
More importantly, they will help the couple enjoy and savor their special day. After all, weddings are once-in-a-lifetime events that deserve a special place in every married couple's memories.