Cowboys seem to be the epitome of confidence, a symbol of hard work and self-assurance. The characteristics they are best known for is reflected in their manner, style, and fashion. It's no wonder that a lot of people find it appealing and would like to identify with the cowboys, easily starting with the way they dress.
Boots
Made of many different materials including leather and snakeskin, the right boot was a cowboy's best friend. These comfortably protected the feet during riding and through all the hard-wearing duties that a cowboy needed to perform so naturally, picking the right boot is serious business.
Traditionally the boot has a high shaft, rounded pointy toe and stacked heel, but modern versions of men's cowboy boots for sale feature closer to ankle cuts, lower heel and squarer toes.
Hat
The most renowned version is the Stetson hat, with its wide brim, stiff creased crown, and stampede strings (yes, that's what they're called!) that secure the hat to the cowboy so it won't blow off during a horse ride. However, there are many kinds you may want to check out to decide which would suit you best.
Cowboy hats can be made of felt, wool or straw. You can check the X usually found on the inside of the crown for quality, which can determine how long it's going to last and even if the dye will run off on your face the first time you get caught in the rain.
So it's also good to consider the weather where you are going to be wearing it, as you don't want to overheat or freeze your scalp off! Sizing properly is also important, as a good hat is supposed to serve you well without giving you a headache or flopping over your eyes.
Jackets, Shirts, and Jeans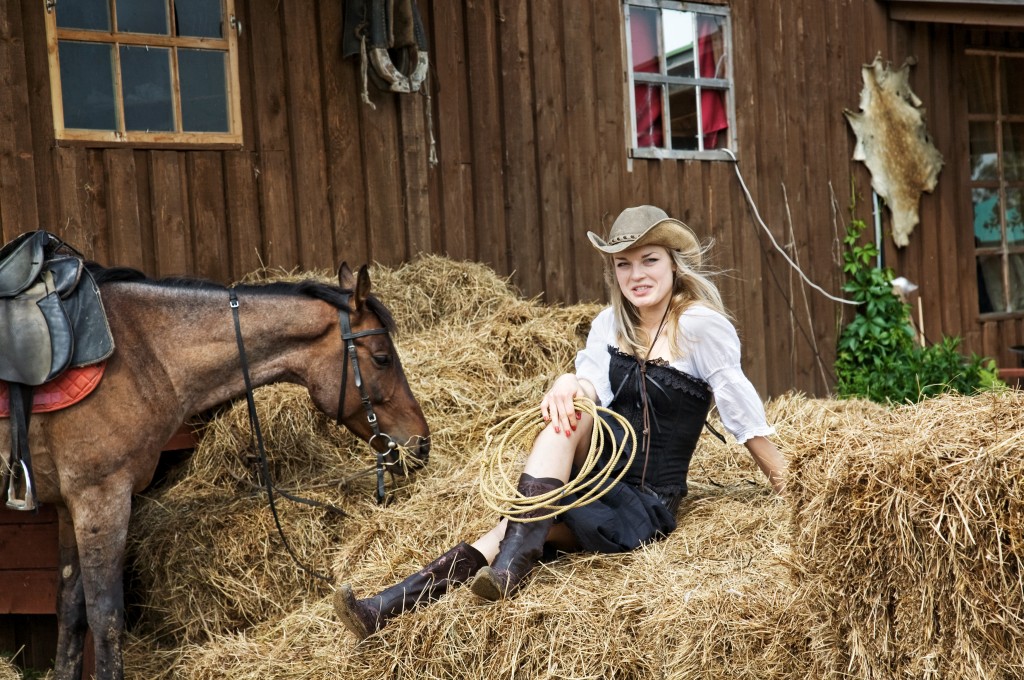 To protect against the elements, cowboy jackets were made for the places they herded cattle in. So leather with wool inside would be a winter jacket, and lighter ones would serve them best during warmer times.
Desert suede jackets with fringes to help the jacket dry faster when it's wet is the most familiar style. If you're going for this one, make sure that your fringes are not going to interfere with your everyday activities.
Long sleeves, buttons, useful pockets and trademark yoke (a curved pattern piece on the front and back that served as support for the looser parts of the clothing) with decorative piping, would define the cowboy shirt.
Usually in wearable plain colors or plaid, these also come in more elaborate designs. It's really up to you how you want to wear it, as long as it's comfortable.
Jeans would usually be slim cut and not baggy or too long. Bootleg cuts are not recommended as they have a tendency to flare out and sweep the ground. You wouldn't want a collection of dirt or soak up water from the ground!
No matter which element of cowboy clothing you pick to incorporate into your personal style, remember your reasons as to why you're wearing it. It's alright being a trendy fashionista, but you also need to remember function, honor the history of your style and be comfortable in it.
Otherwise, it would be such a shame awkwardly stumbling down the street, a sweat-soaked or freezing fashion victim that suave Clint would probably squint disapprovingly at.