The article provides ensemble ideas for wedding guests influenced by popular themes and trends.
It offers specific outfit suggestions for boho chic, black tie, pastel, beach, and trendy themes.
Special attention is given to attire ideas for young attendees, including flower girl dresses and suspenders for boys.
For no-theme weddings, timeless and chic clothing options that suit all occasions are proposed.
One of the most exciting aspects of planning your wedding is picking out what your guests will wear. Whether you're throwing a formal affair or a casual beach wedding, you'll want your guests to look and feel their best. With so many options available, it can be a daunting task to choose the perfect outfits for your attendees. Here's a compiled list of adorable ensemble ideas for your wedding guests that will leave them feeling fabulous and will complement your wedding aesthetic.
Top Themes & Trends To Consider:
Before diving into the specifics, it is essential to have a broad understanding of the popular themes and trends in wedding fashion. These themes not only set the tone for the wedding but also influence the choice of attire for guests. Here are some options:
1. Boho Chic
For an enchanting outdoor garden wedding, create a captivating atmosphere by embracing the bohemian chic aesthetic. Picture flowy dresses adorned with delicate floral prints in soft, natural colors that harmonize with the surrounding beauty of nature.
Guests can elevate their attire by pairing these ethereal dresses with stylishly strappy sandals and complementing the look with statement jewelry, adding a touch of effortless elegance to the celebration.
2. Black Tie
For a formal affair, ensure your guests are dressed to impress in their finest black tie attire. For men, a classic tuxedo or a tailored dark suit paired with a crisp white shirt and a sleek black bowtie will effortlessly exude elegance.
Ladies, on the other hand, can make a statement with a stunning floor-length gown in a rich and regal jewel tone color such as emerald green, deep sapphire blue, or royal purple. To add a touch of glamour, consider accessorizing with exquisite metallic accents in your jewelry or shoes, allowing you to sparkle and shine throughout the event.
3. Pastel Perfection
Embrace the soft and delicate pastel hues for a dreamy spring wedding. For women, opt for dresses in shades of pale pink, lavender, baby blue, or mint green, adding a touch of ethereal beauty to the occasion.
Men can complement the enchanting ambiance by donning light-colored suits or dress pants, elegantly paired with a crisp white button-down shirt and a coordinating tie, exuding timeless sophistication. Together, let's create a picture-perfect celebration that captures the essence of the season.
4. Beachy Vibes
For a beautiful beach wedding, opt for breezy and lightweight fabrics that exude a relaxed vibe. Women can embrace the coastal charm with flowy sundresses or elegant maxi dresses made from cool and breathable cotton or linen fabrics.
Men can effortlessly complement the seaside setting by donning comfortable and stylish lightweight linen pants or khakis. Complete the look with short-sleeve button-down shirts that add a touch of casual sophistication to the overall ensemble.
5. Trendy Tones
This season is all about embracing bold, vibrant colors and daring, funky prints. Encourage your guests to make a statement with their outfits by opting for eye-catching shades like bright orange or fuchsia.
For those who prefer a more subtle yet playful style, suggest outfits adorned with fun and lively prints such as polka dots, stripes, or charming florals. Let them express their unique fashion sense and embrace the joyous spirit of the season with confidence and flair.
Ideas for Young Attendees
Picking out special outfits for the younger members of your wedding party is one of the most exciting parts of planning your nuptials. Let the little ones in attendance look and feel their best with these adorable ensemble ideas:
Boys
For those dapper young gents, suggest a timeless classic outfit featuring dress pants, a crisp white shirt, and a coordinating vest. Complete the look with an eye-catching bowtie or suspenders in a bold shade for an extra stylish touch.
Girls
Capture the spirit of your celebration with beautiful flower girl dresses that will have them feeling like little princesses. Pick out adorable tutus in shades of pink, mint green, white, or ivory for a romantic and whimsical look. Finish the ensemble with a delicate headpiece or crown to truly make their special day magical.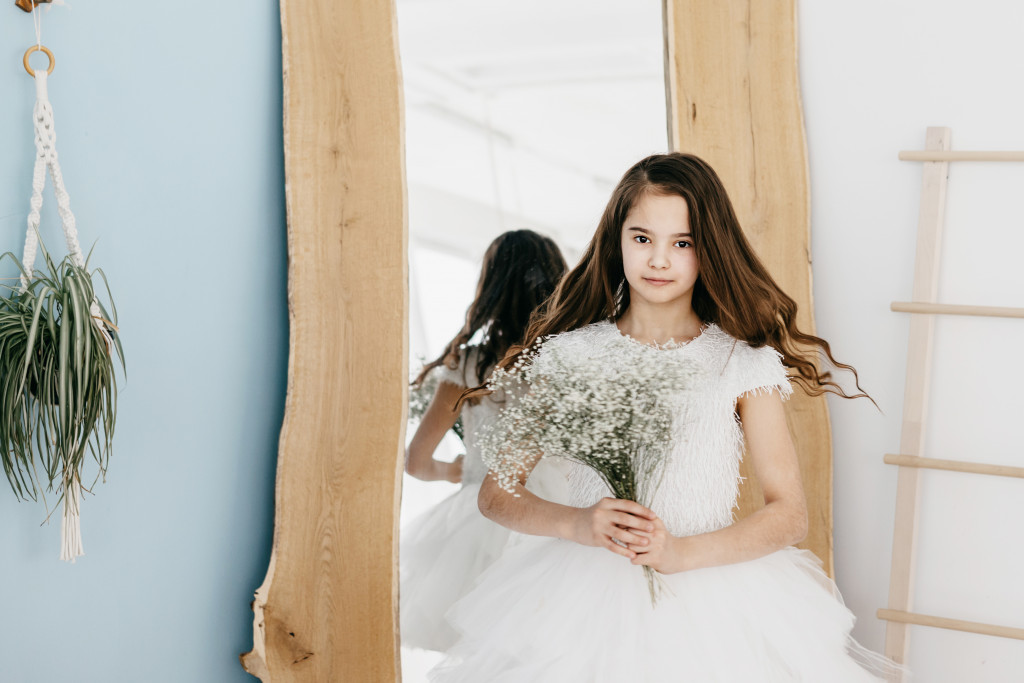 Considering a No-Theme Wedding?
If you're planning a wedding without any specific theme, the above suggestions are still applicable. However, you can also opt for timelessly chic clothing that will suit all occasions and won't be too restricting. Here are some great options that your guests can effortlessly dress up or down:
Women
For ladies, suggest classic silhouettes like maxi dresses or shift styles. Choose a neutral color palette such as black, white, navy blue, or gray — which will be suitable for any type of wedding celebration.
Men
For men, suggest stylish dress pants or a tailored suit paired with a crisp white shirt and an elegant tie in either a classic hue or one that complements the wedding color scheme. Comfy yet stylish loafers or oxfords will complete their look for a timelessly sophisticated ensemble.
Final Thoughts
Your wedding day is one of the most special days in your life, and having your loved ones in attendance wearing their best attire is the cherry on top. With these adorable ensemble ideas, your wedding guests will look and feel their best while complementing your wedding aesthetic. Remember, no matter what outfit your guests choose, the most important thing is that they are there to celebrate your special day with you.