Fashion choices should complement each other, creating a cohesive look that displays both individuality and partnership.
Mix styles and stay true to personal tastes, blending different fashion elements for a unique couple's signature.
Dressing according to the occasion is vital, ensuring neither partner is over or under-dressed for the event.
Matching or complementary accessories can enhance outfits, displaying a coordinated and thoughtful approach to couple dressing.
A stylish couple is a power couple. It's the perfect way to show your individuality and your partnership. The world is your catwalk when you and your significant other are fashionable. This blog will share fashion tips for couples who want to add extra spice to their relationship. These tips will not only elevate your fashion game but they will also make you feel more connected to your lover.
Complement each other.
Fashion is all about making choices. You want to ensure that your choices complement your partner's preferences. Be mindful of your colors and styles, and ensure your outfits have a cohesive feel. For example, if you're wearing a dress with bold prints, your partner can wear a solid color shirt that matches one of the colors in your dress.
Mix up your styles.
You can still make it work if you and your partner have different styles. Don't be afraid to mix and match. If your partner is into streetwear and you are more of a preppy person, you can still find common ground. You can combine different elements of your style to create a unique outfit. This will show off your individuality while still looking cohesive as a couple.
Stick to your personal style.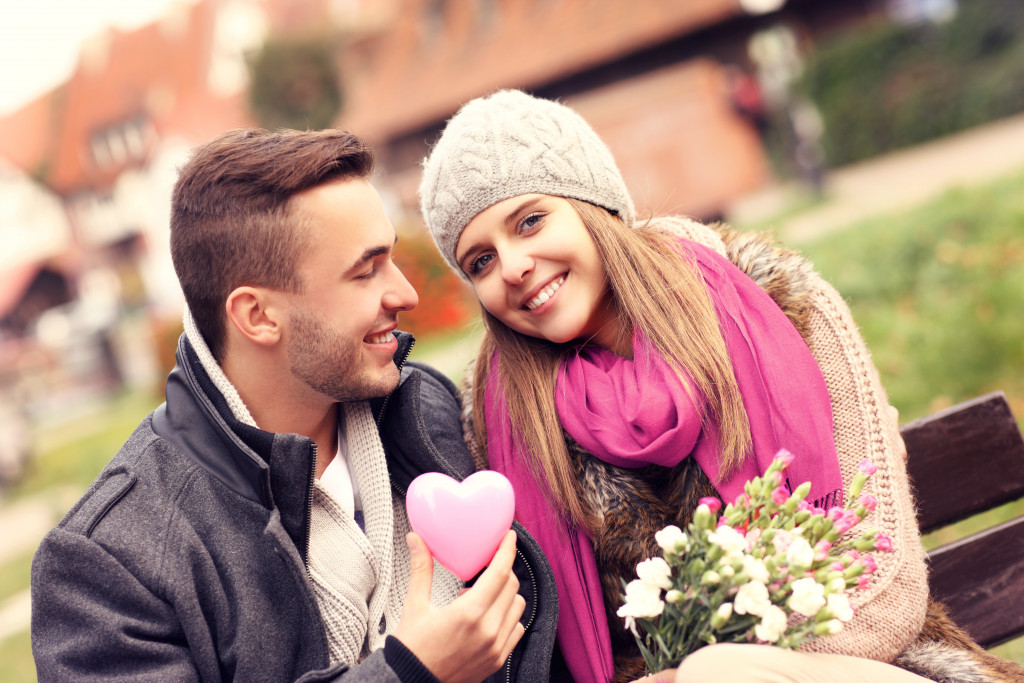 It's essential to stay true to your personal style. You want to remain authentic but should also be open to new ideas. For example, if you're not used to wearing vibrant prints, you can start by adding a printed scarf or shirt to your outfit. By doing this, you can explore new styles without straying away from your personal style.
Know your occasion.
It's essential to dress appropriately for the occasion you are attending together. You don't want to be over or underdressed. Therefore, make sure you plan your outfits according to the event and environment. For example, if you're attending a fancy dinner date, you can wear matching black dresses or suits. If you're attending a casual day out, you can wear matching denim with different styles of tops or jackets.
Accessorize
Accessories are an easy and affordable way to add a statement to your outfit. You and your partner can choose to wear similar accessories that match each other or wear individual accessories that complement each other's outfits. Here are four ideas for matching couples' accessories:
Matching watches
Matching watches not only look stylish but also symbolize that you and your partner are in sync with each other's time. You can choose a classic watch design or opt for a fun and quirky one.
Couple bracelets
Couple bracelets are a popular choice among couples, and for good reason. They are simple yet meaningful, and they add a subtle touch of romance to your outfits. Couple bracelets can be matching or complementary, with each partner wearing a different color or design.
Coordinating hats
Hats are a trendy accessory for both men and women. You and your partner can choose to wear matching hats with a similar color or design, such as beanies or baseball caps. Alternatively, you can opt for complementary hats where you each wear a different style but in coordinating colors.
Wedding bands and rings
For married couples, wearing matching wedding bands and rings is a sweet way to show off your commitment and love for each other. You can choose a traditional matching design or go for unique styles that represent your personalities and relationships.
Accessorizing not only adds a stylish touch to your outfits but also shows that you and your partner are a well-coordinated and thoughtful couple. So don't be afraid to experiment with different accessories and find what works best for both of you.
Sprucing up your shared style as a couple can be fun and rewarding. It's not just about fashion. It's about expressing your mutual connection and shared life through clothes and accessories. Whether you're complementing each other's style, mixing different styles, staying true to your personal style, dressing for the occasion, or accessorizing, you are making a statement about your relationship to the world.
Remember, the most crucial fashion tip is to be yourselves, be comfortable, and let your love shine through your style choices. After all, a genuinely fashionable couple is one that's happy and in love. So flaunt your love and fashion sense, and make the world your catwalk!