Since the COVID-19 pandemic, intimate weddings became the new normal. Even weddings that were originally big have been downgraded to a low-key ceremony, resulting in pleasant surprises and more aesthetically pleasing photos. Indeed, intimate weddings tend to be more visually appealing because you can focus on the couple without the distraction of phones coming from the aisles.
Though we all miss attending huge social gatherings, big weddings can stay in the past, especially if most of its guests aren't even close to the couple. Tradition forces many couples to invite even acquaintances as well as their friends' and relatives' "plus ones". As a result, the guest list blows up, and with it, the costs.
If the pandemic brought one good thing, it's intimate weddings becoming the norm. It allowed couples to invite only a few guests without feeling guilty. And until now, even with the vaccines rolling out, intimate weddings carry on. They've taught us that the only ones who should witness our wedding are true friends, immediate family members, and close relatives.
And with celebrities rocking the low-key wedding, more of us ordinary folks are becoming encouraged to do the same. Check out these celebrity intimate weddings worth stealing ideas from:
1. Aidy Bryant and Connor O'Malley
Aidy Bryant only announced her engagement to Connor O'Malley months after the latter's proposal. So it didn't come as surprise when the couple was revealed to have tied the knot on April 28, 2018.
Their wedding was the definition of simple; Aidy wore a white knee-length dress and kept her hair down, quite far from the traditional long-gown-and-veil ensemble. Connor, on the other hand, donned a dark-blue suit and a tie, not a bow tie.
One of the advantages of an intimate wedding is skipping the uncomfortable formal dresses. While you can still choose to follow tradition and wear a gown and a veil, an intimate wedding usually passes on that. Besides, a beautiful, country wedding venue, where intimate celebrations are more fitting, calls for cocktail dresses rather than bulky gowns.
2. Raven-Symone and Miranda Pearman-Maday
Disney fans were thrilled when Raven-Symone married Miranda Pearman-Maday in a small backyard wearing black and white jumpsuits, respectively. The ceremony was highly personalized. Instead of enlisting an events management company to handle the hosting and catering, the couple entrusted Debbie Allen, a Grey's Anatomy star, for both jobs. Moreover, Raven and Miranda showed off matching tattoos on their ring fingers instead of rings.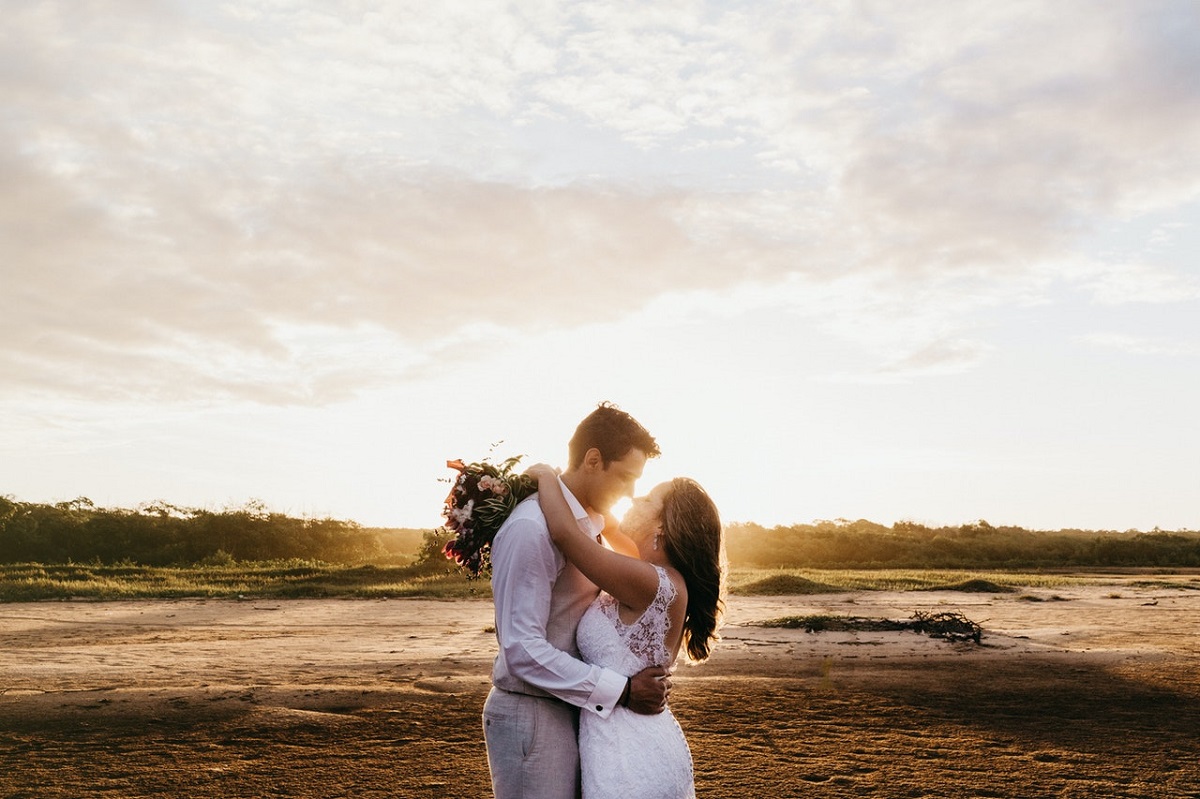 3. Katherine Schwarzenegger and Chris Pratt
If you want an intimate yet fancy wedding, take inspiration from Katherine Schwarzenegger and Chris Pratt. Their ceremony in Montecito, California was low-key but definitely imbued with luxury. How? Well, the person who made Katherine's "once in a lifetime dress" and Chris's suit was none other than Giorgio Armani.
Considering that an intimate wedding allows you to maximize your budget, maybe you can splurge on your dress, too. Even if you can't make Giorgio Armani, Christian Dior, or Vera Wang design your dress, your wedding dress won't be any less special, because it's your dream dress made real.
4. Miley Cyrus and Liam Hemsworth
Despite the bitter ending of these two, no one can deny that their wedding was one for the books. Miley and Liam got married spontaneously at the Cyrus' family Nashville farmhouse. Their sudden decision to tie the knot was triggered by the fire that ravaged their Malibu home. According to Miley, losing their home and belongings inspired her to walk down the aisle and seal the deal with Liam.
Miley looked stunning in her simple form-fitting white gown, while Liam looked dapper in a black suit and tie. The witnesses were just their immediate families and a couple of close friends, said Liam.
5. Amanda Seyfried and Thomas Sadoski
This couple's wedding wasn't just intimate; it was a sneaky ceremony! Amanda and Thomas eloped in March 2017, and shortly after that, they welcomed their first baby.
Amanda shared with PorterEdit magazine that their elopement took place in a small community in the Santa Monica mountains, called Topanga. The place is apparently popular among artists who are getting married.
Their wedding was sneaky because they invited no guests — well, it's an elopement, after all. As such, they didn't have a reception either and instead had brunch at the community's neighborhood cafe. Their wedding may be far from dreamy, but if you're always in the public's eye, eloping the love of your life can sound like paradise.
If celebrities who have tons of connections and big social circles can hold an intimate wedding, you sure can, too! Remember, all that matters on your big day are the people you love and trust, apart from your spouse, of course. You don't need to invite a hundred people just to prove that you're in love.