To quote tennis star Maria Sharapova, "When you look good, you feel good." We have heard this countless times from almost every single advertisement out on personal items. But even so, that mantra only rings the truth.
In boosting your confidence, the best way to go about it is to feel good about yourself and do self-administered positive reinforcement. For women, it can be done through achieving your goals for the week, getting into a new hobby, indulging in that snack you've been craving, or pampering yourself with a whole day self-care and shopping session.
How you dress and accessorize leaves a lasting impression on the people you work and interact with, especially for the girl bosses out there. When you're always on the go, the fashion statements and decisions you make can be lost in hindsight.
Build your wardrobe with outfits and accessories that communicate your personality and go well together. Doing this beforehand and steadily through time ensures that the items you wear at the last minute would always match and look styled. Apart from that, here are 5 fashion staples that every working woman should have at their expense.
A trendy utilitarian bag to store all your needs.
Your bag is one of the most fashion-forward and telling statements that you make. From this item alone, people can make good educated guesses on your work, lifestyle, and preferences.
If you have many items or gadgets to bring along, it is best to go with utilitarian bags that have compartments to be more organized. Among the trendsetters for utilitarian bags lately are designs from Louis Vuitton, Marni, Bally Erminia, Fendi, and Kate Spade bags.
But you must not forget to take the bag's design and material into consideration too. Have a good look at your wardrobe and see if it fits in with the rest of your clothes. You can never go wrong with a mono- or dual-tone bag as it can blend with the rest of your casual and semi-formal wear.
A fashionable jacket, cardigan, or coat that amps even the simplest ensembles.
Layers often add dimension, and this has been a growing trend in both high and fast fashion. Having an overcoat is perfect for all kinds of weather and those who think bringing an umbrella is too bulky. It also boosts your entire look with style and can quickly draw the line between casual and formal.
Checking out catalogs from H&M, Everlane, Prada, Valentino, and Orolay is a good start to knowing what designs and cuts work best for every occasion and season.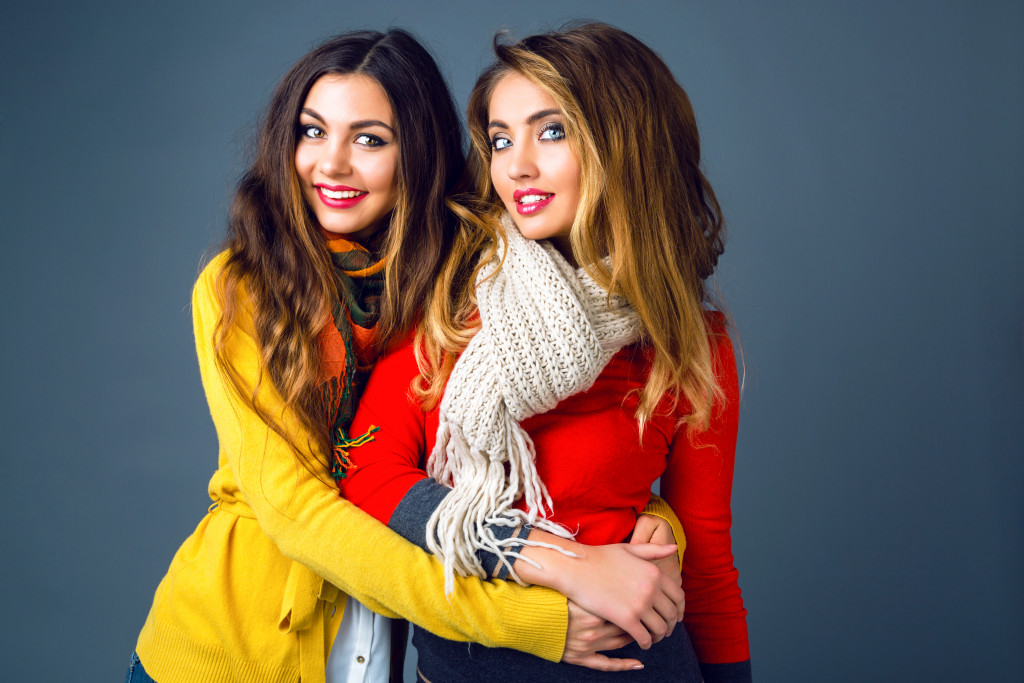 A pair(s) of handy, stylish flat shoes.
The higher the inches of your heels, the more powerful that you feel. But they're neither safe nor convenient for running or rushing (unless you're one of those people with Herculean joints on TikTok who run on heels as a challenge). And the woman on the go is often busy, if not in a hurry.
Wearing flat shoes is very comfortable and is suitable for almost all activities. They come in many varieties as well, such as sneakers, espadrilles, ballet flats, and boots. Having one of each of those is ideal, but you can also stick to just one or two to accommodate your style.
The many designs from Dr. Martens, Chanel, and large corporations like Nike and Adidas are go-to brands for footwear.
A small makeup kit that you think you may not need, but you really do.
We all love the natural glow, which results from good skincare, proper rest, and a healthy diet. But human as we are, we also have off-days where our skin is not in the mood to cooperate. We owe it all to the power of makeup to save the day.
Having some blush or lip tint, blotting paper, and powder is essential for quick powder room visits to look more lively. An onhand lip balm or gloss is great for avoiding chapped lips (which can be quite distracting in the middle of a conversation). You can add more to your small makeup pouches, such as a mini eyeshadow palette or mascara.
Looking into makeup brands such as Fenty, NARS, Pat McGrath, NYX, and Maybelline is good for starters. But there are also many small makeup brands sprouting left and right that do make bomb products as well.
A set of go-to accessories is the cherry on top.
You already have a bag and a coat, but something still looks and feels missing. It's probably time for an accessory pat-down.
Accessories are the cherry on top of an outfit, and they can easily go wrong. Figuring out when is too much or too little accessories can be a bit tricky on your own. However, your accessories are just as much of a fashion statement as your bag. It's the aspect of your look where you can go elegant, creative, or chic quickly.
A jewelry set worn together can never go wrong, but only choosing at most two or three from the set is the best choice. Trust that you don't have to wear the ear-piercing accessory, necklace, bracelet, and ring all at once because it's not necessary. Mixing and matching bangles, bracelets, and necklaces are quite trendy nowadays.
Many brands offer an array of accessories to choose from, but the best part about it is that it's also easy to make one by yourself.