Weddings are fun and exciting, but they are a lot of work. One of the things you surely have to pay attention is your wedding dress, as you most probably have dreamt of wearing one since you were a little girl.
Looking and shopping for wedding dresses can take a long time, especially if you want to find that perfect one that you want to wear for your wedding. Here, we will give you a few things that you should take note of when shopping for wedding dresses in Provo so you would not get stressed in the process.
Do Your Research
This tip is for you to save a lot of time and to keep yourself from getting stressed when it comes to shopping for a wedding dress. Do proper research before heading to the shop, so you can be sure that you would like their style and designs.
Going to the shop along with your bridesmaids, friends, and sisters without knowing what to expect can be a total waste of your time and effort, which can then lead to you being stressed out.
Fill Your Tummy
Do not go on and start your shopping spree without eating a proper meal. You can get nauseated or feel ultimately tired when trying out gowns, which can be a bit stressful and tiring.
Also, make sure to eat a healthy meal before fitting the dresses and gowns, as some types of food can make you feel and look bloated. Avoid food that has high amounts of sodium, as well as food that has high amounts of sugar. You would need energy from healthy food, so make sure to eat a lot of vegetables and fruits before fitting.
Have an Open Mind
Keep in mind that you would not be able to find the gown that you like right away. If you happen to do so by chance, then that's great. However, it can be a bit difficult to find the gown of your dreams, so visit shops with an open mind.
Also, make sure not to rule out the dresses or gowns unless you have tried them on. You might not like the way it looks on the rack, but once you've tried them on, you might like how it fits.
If You Want to Shop Alone, Go Ahead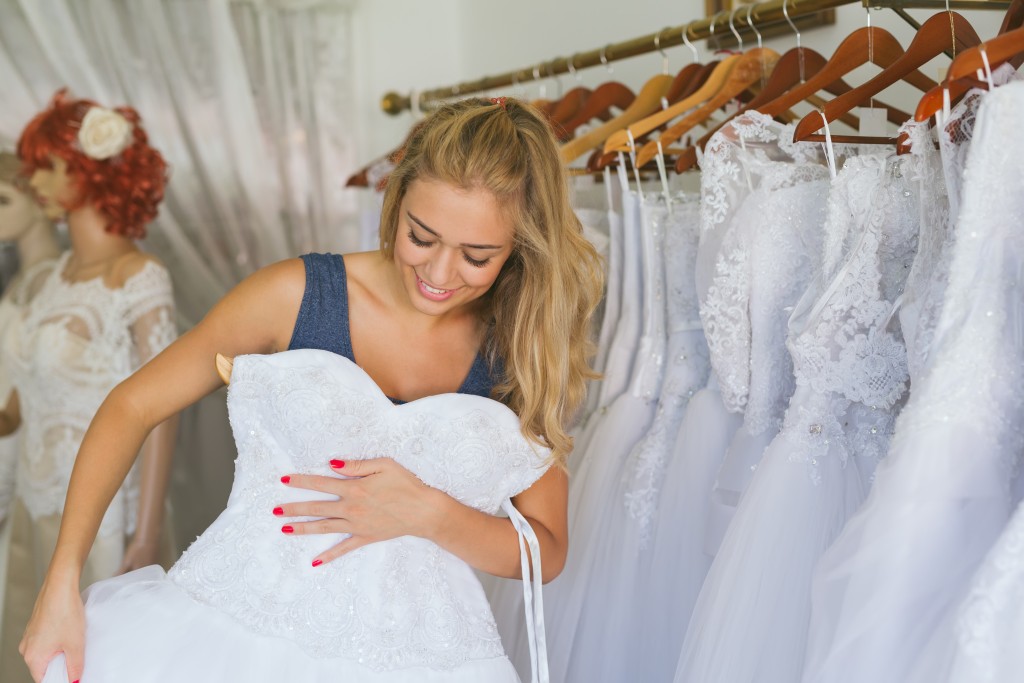 Don't feel pressured to bring your bridesmaids and friends with you just because they expect you to do so. If you shop better by yourself, then do that by all means. You do not have to stress yourself out for the sake of satisfying your friends and families' wishes. This is your wedding and your moment to shine.
You can explain to them that you are better off shopping alone, as having a lot of people around can stress you out. You can take pictures so they can see what the gowns look like later on.
When it comes to your wedding, think of yourself first before anything or anyone else. This is a special event for you, and you have to go in feeling calm, happy, and relaxed.